Welcome to Kennerly Road Baptist Church
Whether you live in Irmo, the greater Columbia area, or are just passing through, we would
love to have you and your family visit and worship with us in our services.
Address & Phone
1526 Kennerly Road
Irmo, SC 29063
(803) 732-9797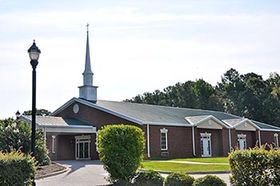 Service Times
---
Morning Fellowship: 9:30 a.m.
Sunday School: 9:45 a.m.

Adult Series: A Thorough Study of Exodus
Morning Worship: 10:45 a.m.
The Book of Romans
Evening Worship: 6:00 p.m.
Advancing the Gospel Around the World
Wednesday: 7:00 p.m.
Application, Group Discussions & Prayer
Kids 4 Truth
Upcoming Events
May. 25, 7 p.m.: Prayer & Bible Study
May. 29, 9:30 a.m.: Sunday School
May. 29, 10:45 a.m.: Morning Worship Service
May. 29, 6 p.m.: Evening Worship Service
Jun. 1, 7 p.m.: Prayer & Bible Study
---
Recent Sermons