Ministries
Adult Bible Classes
Adult Bible classes meet each Sunday, 9:30 am at Kennerly Road Baptist Church. We organize our adult Bible classes by various life stages, so no matter what your age, you will find a class focused on your needs and circumstances. During the classes we discuss various topics or books of the Bible and current applications.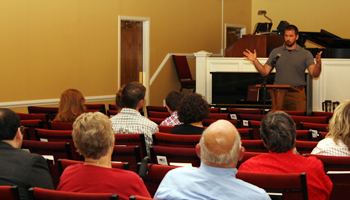 ---
Children's Programs
Each week, children's Sunday School classes meet at 9:30 am. During the Sunday morning worship services, we dismiss the children for special, age-appropriate lessons (often called "Children's Church"). These programs help little ones learn about the Savior and become comfortable with the structure and format of a worship service. Caring adults teach these classes and work faithfully to challenge kids with the truths of the Gospel.
On Wednesdays, children K4-6th grade, meet for our Kids4Truth program from 7:00 to 8:15 pm. During this program the children learn essential Bible Truths covering key Doctrinal Themes of the Christian Faith. These are taught through Bible lessons and reinforced through Scripture memory, songs and other fun activities. You can find more information about this program on the Kids 4 Truth website.
---
Nursery
The nursery provides care for children under the age of 4 during all regular Sunday and Wednesday services. Please plan to arrive a little early if you'll be using the nursery, to allow time to check in. Our nurseries are staffed by church members who have been carefully screened. They serve parents by giving you the opportunity to focus on classes and services without any worry about your child's safety or comfort.